The cake designs you should know in 2022
Posted by LEWINS CORREA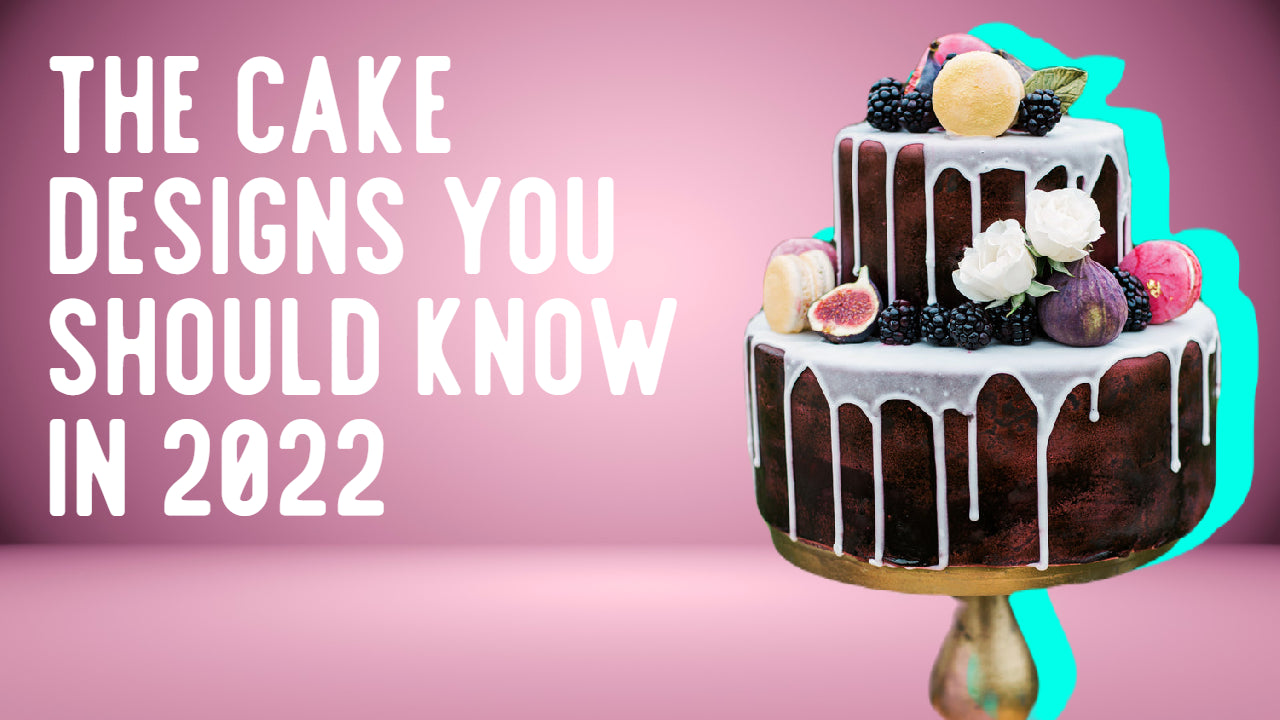 The cake is, traditionally, a dessert made with a sugary dough that is usually baked. But the modern cake is much more than a simple dessert. From its history to its symbolism, the cake has evolved into an artistic medium that inspires imagination, creativity and celebration, all of which can be seen in the designs that will grace our tables and Instagram feeds in 2022.

Decorating is one of the most exciting parts of cake creation. If you're like me and love to try new techniques, we've put together a list of the latest cake trends you need to know about in 2022.

Drip Cake Technique
A drip cake is a type of cake that has been designed to look like liquid is dripping around the cake. The most used liquid is black or white chocolate ganache mixed with cream, hot caramel or condensed milk is also used, whichever suits you best. Just make sure it's thick enough to drip.

The technique was popularized by Sophie Dahl in her cookbook "How To Be A Domestic Goddess". She used molten white chocolate to create a dripping effect in her white chocolate mud cake recipe, but other bakers have experimented with different techniques, such as pouring caramel over their cake base or using molten white chocolate instead of hot caramel sauce.

Drip cakes are the novelty in cake decorating. They are so much fun to make, and can be made in any color or flavor you like.

This technique is perfect for birthday parties, baby showers, and other celebrations where everyone wants to eat cake.
Making a drip cake is easy and fun. You just need some basic supplies and equipment, such as


cake stand
Knife or spatula
Cake board/cake turntable/cake dummies (optional)
molten white or black chocolate.
Floral Cakes
Floral cakes are a trend that has been around for years, but it has a lot of new variations and a lot more people are taking an interest in it. There are many people who like to make cakes and want to try something different than usual.
Floral cakes are distinguished by the use of flowers in the decoration of the cake, for this the decorators can use real flowers, also edible paper flowers and non-edible paper flowers.
Real flowers are mainly used for decorative purposes. Although some of them can also flavor your cake if they are fresh enough (and if you like the taste of them).
The real flowers most used in the preparation of flower cakes are: rose petals, carnations, gerberas, gardenias, peonies and tulips. On the contrary, there are several materials used to make edible flowers: sugar paste (pasta di zucchero), marzipan (marzapane), fondant (fondant) and chocolate (cioccolato). In this case we must bring out our creative side to be able to shape the material and make the design of our favorite flower.
Mini Cakes
Surely you have eaten a cake in your life. But have you ever seen a miniature cake? This trend is catching on as people look for new ways to celebrate their birthdays and special occasions.
There are many reasons why miniature cakes are in great demand in bakeries, and what are their advantages?
Smaller portions

: Miniature cakes are smaller than full-size cakes, allowing you to enjoy them without feeling guilty.

More variety

: The variety of shapes and decorations available for mini cakes makes it easy to create a unique look that will make your event stand out.

Lower cost

: Miniature cakes cost less than full-size cakes because they use fewer ingredients and require less work. This makes them perfect for special occasions when you don't want to spend too much money on food and decorations.


Arch Cakes
The Arch shaped cakes are the latest cake craze that is taking the internet by storm. These delightful items feature smooth, sleek designs with a touch of whimsy, making them the perfect addition to any special occasion.

The arch cakes have cake layers with buttercream filling just like any standard stacked cake would, but these cakes are very different in shape and presentation. Its preparation consists of taking a round cake and making a straight cut in the lower part of the cake, which will make a rectangle as the base of the cake, and stand up the cake at the base it will give it the shape of an arch.

Many decorators have created their take on this trend, and we can predict that this cake shape in its sleek minimalist design is here to stay as this aesthetic becomes more popular.
These types of cakes join the trend of geometric cakes, which are nothing more than cakes in the shape of squares and rectangle shapes. Whose decoration tends to be minimalist accompanied by floral arrangements that complement them.


Tiered Cakes
Tiered cakes are the most popular nowadays and the most used technique, they can be decorated in many ways, using buttercream, chocolate ganache, fondant and sigh.

The floors of these cakes are usually built with strips of sponge cake that are cut lengthwise and placed one on top of the other along with the filling between them. The taller the cake, the more layers will need to be added.

This type of cake is ideal for weddings because it allows you to decorate it with flowers or any other decorative material you want to use, as well as making sure there are enough tiers for everyone to have a piece. They can be found everywhere: in bakeries, grocery stores, and even on the Internet. These cakes are easy to make and come in a variety of flavors and colors.

If you're going to make a cake for your next event, keep these three amazing design trends in mind:

Cake Pops

decoration with sprinkles

vibrant colors

At Cake art Shop we also offer classes where you can learn to create each of the cake models we talked about earlier. On our main page you can find our calendar of future classes and with just a few simple steps you can sign up for one of them.
Now you know the latest trends in cake decoration. The best place to get cake designs is a designer bakery. And if you have some photos of amazing cakes made for weddings, parties and other occasions, please share them with us. We will be happy to publish them in our articles and blog posts.